TOURNAMENT SETUP
1. SETUP MENU.
2. Click Tournament button (you will see this window below).
3. This data on this page must be properly entered, else you will get error pages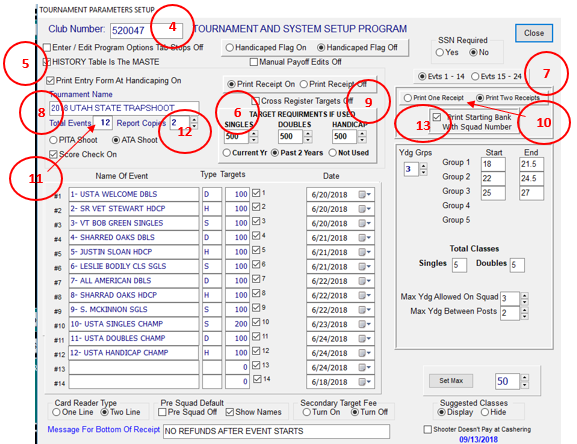 4. Enter your ATA Club Number; Check YES or NO for Social Security Number Required.
5. Be sure that the check mark is in box of HISTORY Table is The MASTER .
6. Target Requirements if Used – If your shoot program list the minimum requirements for
your shoot, be sure to enter this information. Also check the correct box, either Current
Year or Past 2 Years, or Not Used.
7. This system will accommodate 24 events; start with 1-14, fill these; then check 15-24.
8. Enter the Name or Date of Your Shoot (if Date, just list starting Date, i.e.: 5/24/2019).
9. Check Cross Register Targets (if Club offers this for ATA to PITA or PITA to ATA).
When entering scores and the score check is turned on this insures that if the event is a
Singles or Handicap and the user enters a number greater than 25 it will not process this
sub event score. When doing a Doubles event if the user enters a score greater than 50
then the sub event score will not be processed.
10. Check whether you want One Receipt or Two Receipts to print at Cashiering.
11. Enter the total number of Events of the shoot.
12. Enter how many Report Copies (you may choose up to three).
13. Check box if you wish to show the Starting Bank & Squad Number when Receipt is
printed.
14. Enter the description of Event or Name of Event ; Under Type: S=Singles, D=Doubles,
H=Handicap; Under Targets: 50, 100 or 200; check the box after targets, this tells the
system these are registered targets.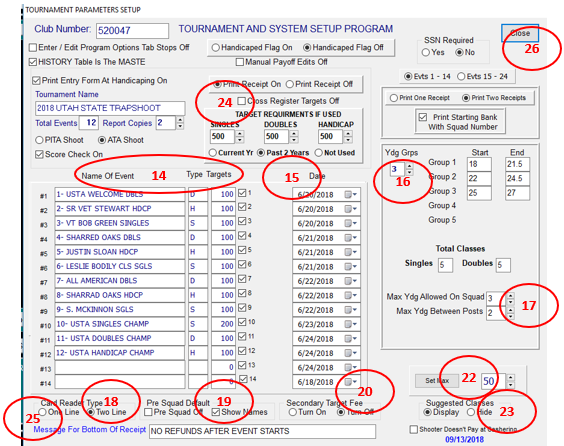 15. Enter the date of when events will be shot on. E.i: Event 1, 2 /24/2014. Always be sure
your events match the date shot on. This is very important for ATA and PITA records.
16. Choose how many yardage groups your shoot will have; usually for ATA three groups are
chosen. Enter number in Ydg Groups; you decide for your club the breaking yardage.
Make sure that you add the .5 to the yardage in the end yardage. If you fail to do this
these shooters who have a .5 will not be shown when printing score sheets or on the
constant scores display.
17. Maximum Ydg Allowed on Squad for this program is 3 yards per squad; Maximum
Ydg Allowed Between Posts for this program is 2 yards.
18. Check which type of Card Reader you have if using: One Line or Two Line
19. Check whether Presquad is used ; show names if used.
20. Check Secondary Target Fee either On or Off.
21. Earn Yardage on Winnings: No longer used . ATA rule changed in 2019.
22. Max Squad, using the up and down arrows, select the max number of squads you will
allow in an event. Since this field is for all events, select the highest number for the
biggest event.
23. Suggested Classes ; choose whether to display or hide, this option helps
classification operators at tables.
24. If you are allowing cross registration from the ATA / PITA select " Cross Register
Targets "
25. Enter your Club's personalized message if you so wish. Prints on bottom of receipt.
26. Click CLOSE to Close Window.
NOTE on HANDICAP FLAG: When doing a small shoot this flag should be off. The purpose of
this flag is to insure that a shooter has been classified before they can squad. This is usually only
used at a Large shoot, State Shoot, Zone etc. If the flag is on when someone is being squadded
the system looks to make sure the shooter has been classified. The system will tell you that the shooter is not in the member table or has not been classified and will not allow you to squad this
shooter.
FEES SETUP
1. SETUP MENU .
2. Click Fees Setup button (you will see this window below).
3. The data on this page must be properly entered. You will get error pages if not.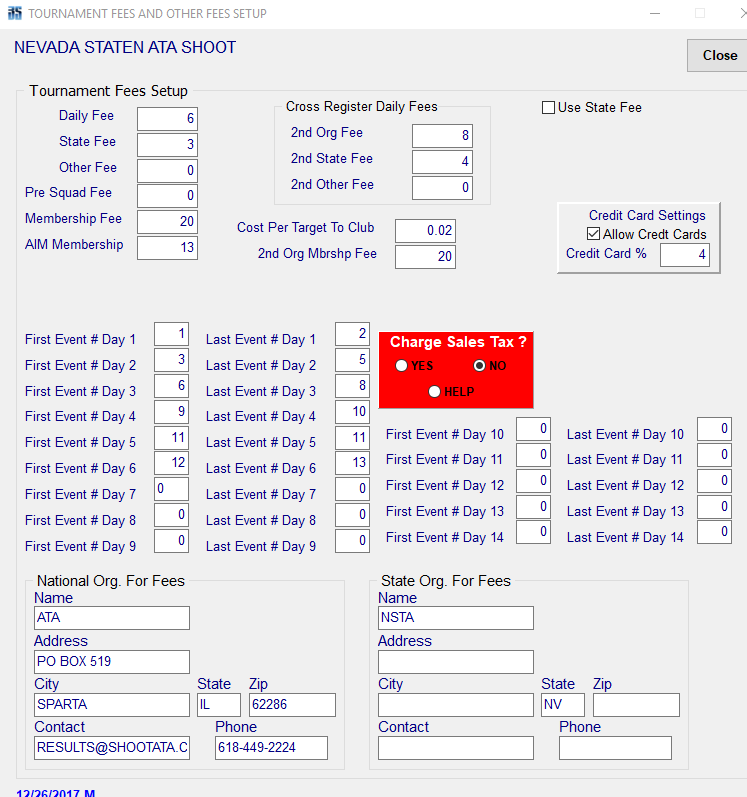 4. Enter TOTAL Daily Fee (which includes the ATA or PITA + State).
5. Enter State Fee (daily) This is the amount of the TOTAL Daily fee that goes to the State
association..
6. The Use State Fee check box is used when the state where the shoot is being held has a
yearly fee for membership in the State Association. When checked the system will ask
the user if this shooter needs to pay this yearly fee. If used, enter the Annual State Fee.
7. Enter Other Fee; Some states calculate their daily fee on the number of targets each
shooter shoots in a day, as $1.00 / 100 and this can also be a Zone Fee, Trophy Fee, etc.
8. Enter Presquad Fee if used but not collected. This will be collected only once per shoot.
9. Enter Membership Fee ; check the ATA or PITA applications.
10. Enter AIM Membership Fee ; this is an extra fee over the ATA Jr. Membership.
11. Enter Cost Per Target To Club this helps club track expenses; e.i: Labor, Trophies,
Electricity, Advertising, Comp Lunches; or any other costs associated with shoot.
12. Check box on Credit Card Settings should be checked if credit or debit cards are
allowed. If used, enter Credit Card %.
13. Enter the Number of First Event on Day One; enter the Number of Last Event of Day 1.
Continue with the amount of days to match the shoot program.
14. Check whether or not your Club will charge Sales Tax. Please read the Help Window for
explanation of how to enter the taxes charged.
15. Continue to enter data to match your Shoot Program in the Tournament Fees and Others
Fees Setup Window.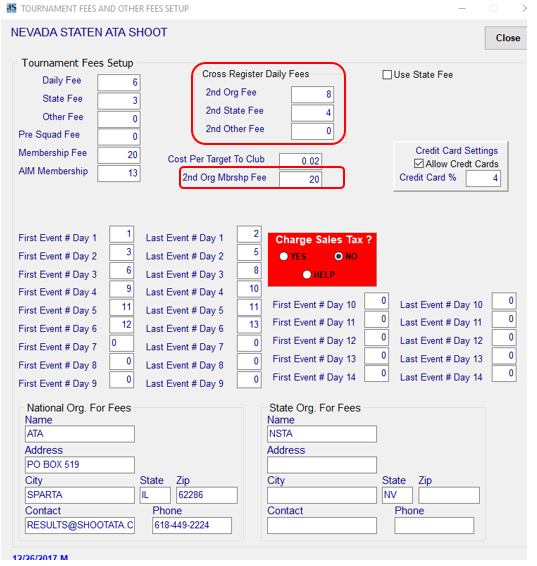 NOTE: Items in 2 boxes, only shows if "Cross Register Targets" selected on Tournament
Setup.
16. Enter the Name, Address, City, State, Zip Code, Contact Name and phone number of the
National Organization for Fees. This will be either ATA or PITA. You can enter
results@shootata.comas the contact. You can email final results here also.
17. Enter the Name, Address, City, State, Zip Code, Contact Name and phone number of the
State Organization for Fees.
NOTE: Please be sure to have all of the data for the organizations entered correctly, as these
will be on the final reports of the shoots for your convenience.
18. Click CLOSE to Close Window.
SETUP TARGET FEES / OPTIONS
BASELINE SETUP
Baseline allows you to setup options for each type of event (Singles, Handicap, Doubles). Later you can
reuse these options in the standard target fees/options setup menu.
1. Click Tgt Fees / Options button. Click Baseline Event .
2. This window is a short cut; it will help you with your Target Fees, Options Description
and Options Fees. You may also decide how to pay out the option on this window; enter
how many places to pay; and along with decision of Percentage or High Gun .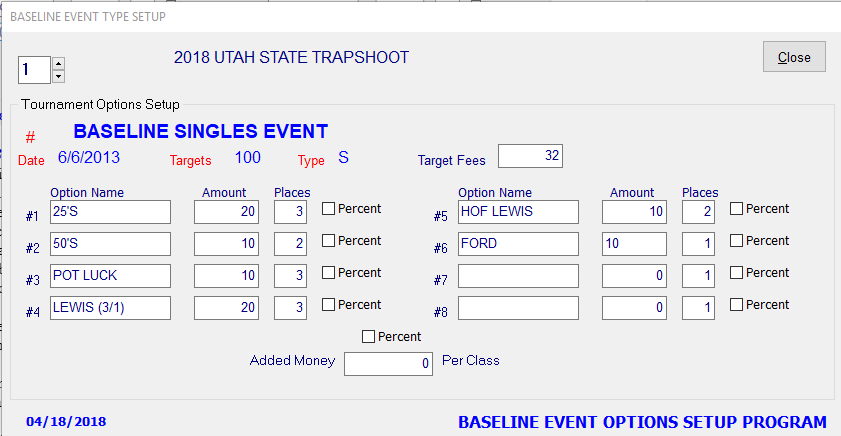 3. In Blue you will see values for the Date ; Target number; and Type . Enter Target Fees
amount for 100 targets. Amount; under Options: Enter Description; Amount; Places; and
whether option is percentage or high gun. If left unchecked; option pays out in
Percentage. Checked: Option is High Gun. Enter Added Money per Class/Yardage
Group if provided and whether paid out in Percent (unchecked) or if checked; High
Gun.
a. Select 1 for a Singles event.
b. Scroll arrow to 2 for a Doubles event.
c. Scroll arrow to 3 for a Handicap event.
4. When setting up Options , check to be sure if the Options are described the same for
each event. Usually, the Lewis Option is ran the same way for all events. For any
option that is run as a Lewis, needs to have the first 5 characters as ' LEWIS '. Then
enter the Amount and number of Places (which is actually the Classes ). This will then
automatically appear on the Lewis Option screen.
5. After you have set up all the baseline data, click CLOSE to Close Window.
STANDARD
This is where you setup options and target fees for each individual event of a shoot.
1. Click on the desired Event number, using the up and down arrows.
2. Click Tgt Fee / Options button (you will see this window below).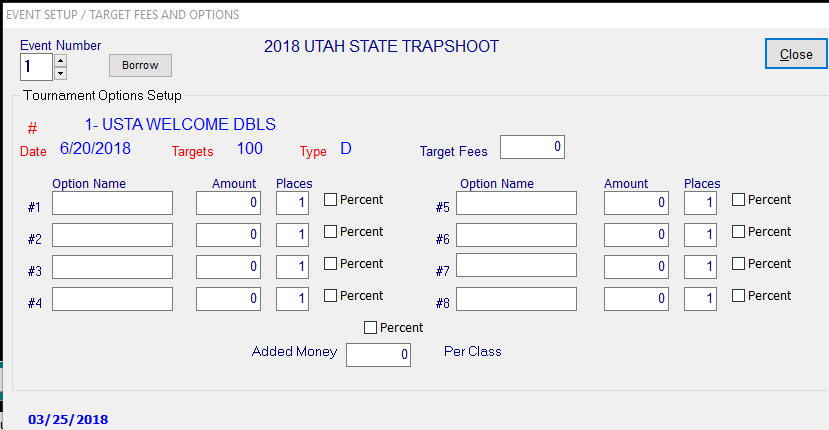 3. Here is where the shortcut comes in. The Baseline Setup Window and Borrow Button.
The reasoning behind this Borrow Button is to cut down the time and typographical
errors in entering shoot program data.
4. In this example, event 1 is a Doubles event, click on Borrow Button. This will input all
data from the Baseline Setup Window. Since this is a 200 Target Event , you will need
to change the Target Fees amount from $32 to $64.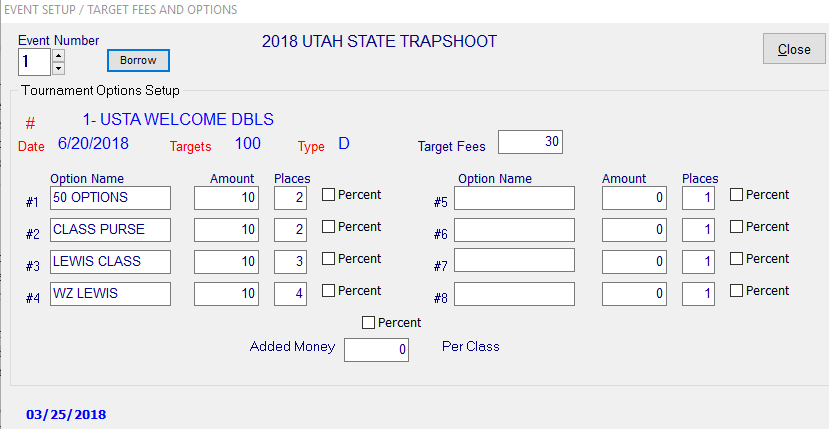 5. Click the Event Number to next number. Then click on the Borrow Button; all data is
entered. Verify the information. It does not matter the order of your events, as the
Borrow button will check the Event type, to choose which event to Borrow.
6. Continue to scroll through all events; the Borrow Button will remember which data goes
with which event. Double check by scrolling and reading the Blue data listed on each
event.
7. A SINGLES CHAMPIONSHIP (two hundred targets) will need to be entered manually
for the target fees, but the Borrow button can be used first, then make changes ( as
described in step 4 above ). Double the target fees and verify the options fees. This
applies to any 200 target event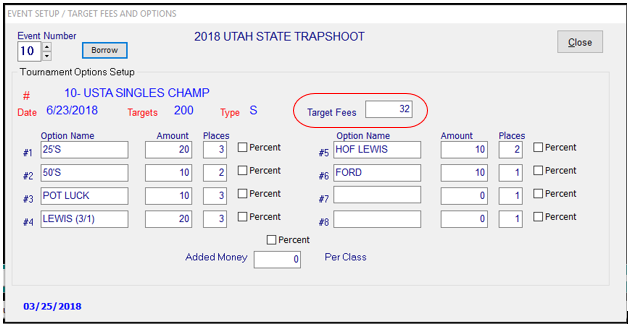 As shown above, after the Borrow button is press, then go to Target Fees (below) and change $32
to $64, since it is a 200 target event..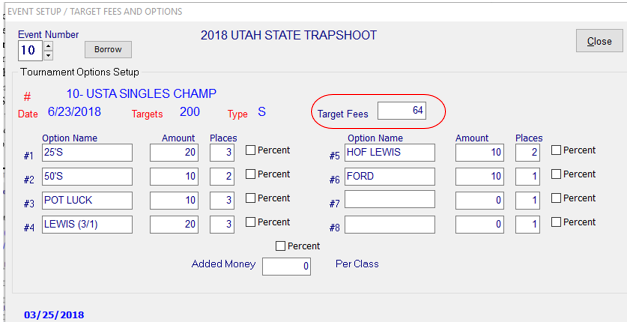 8. Click CLOSE to Close Window.
SETUP PAYOFF ROUNDING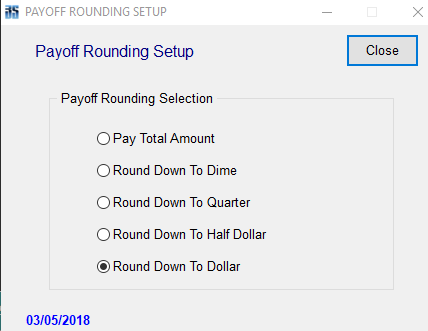 2. Check which payoff your club desires.
NOTE: Breakage accumulated by rounding off is to be considered part of the one-half (1/2) of
one percent, which may be deducted from the gross amount of monies collected from purses,
options, etc.
3. Click CLOSE to Close Window.
SETUP SPECIAL CLASSES
1. Click Special Classes on the Setup Menu (sometimes called Special Categories)
(you will see this window below).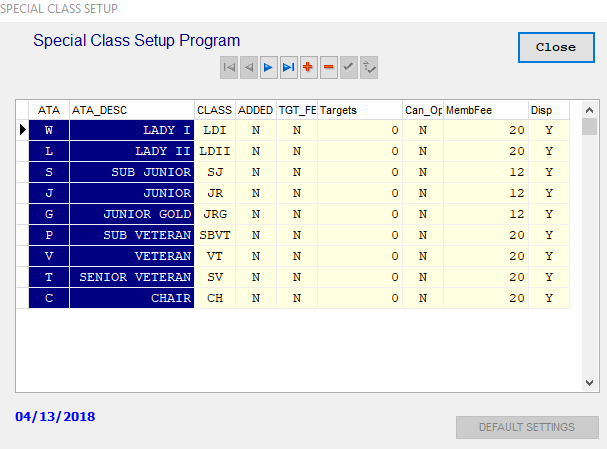 2. To add a Special Class ; click on the plus ( + ) Button, this will add another line to
Special Classes. Abbreviate the description of Class.
NOTE: YOU MUST PROVIDE THE ATA SINGLE CHARACTER DESIGNATOR TO
SUBMIT RESULTS TO THE ATA! PLEASE ENSURE THAT THE CHARACTER
MATCHES THE DESIGNATOR.
3. If a Y is in the Added column program this will not allow the selected Special Class
to be paid any added money in event. The column for added should have all N's listed
unless otherwise.
4. Some Clubs will allow half price targets or special rats on targets for SBJR, JR, and
JRG sho TGT_FEE column in order for the program to charge correctly for the SBJR,
JR, and JRG; enter amount to be charged in Targets column.
5. The Targets column is to have the amount that each Special Class will pay.
6. The Can_Opts column will allow the SBJR, JR, and/or JRG to have lower cost
targets and also play the option monies.
7. The MembFee column shows the amount of the membership fee that program is to
charge for that Special Categories. For Sub Juniors, Juniors, and Junior Gold, the
Membership fee will be $12.
8. The Disp column determines if the special group with the Y is displayed in the rolling
scoreboard. If the Column has a Y that group will be shown, If a N the group will not
be displayed.
9. Click CLOSE to close Window.
SETUP HOA/HAA
1. SETUP MENU .
2. Click HOA / HAA button (you will see this window below).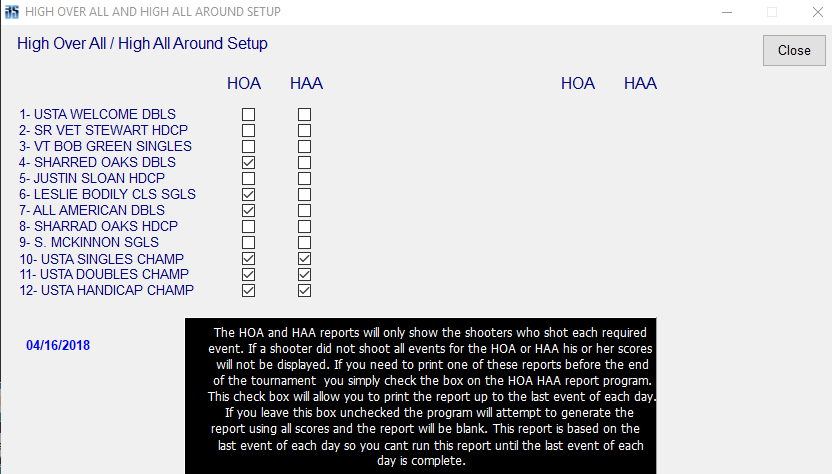 3. Check the Events which you choose for the HOA of shoot.
4. Check the Championship Events for HAA = 200 Championship Singles,
100 Championship Doubles, and 100 Championship Handicap.
5. Choose whether the HAA is based on the Shooter's Starting Class or on the Shooter's
Singles Championship Event Class. (The latter is normally done during a large shoot;
i.e: A Satellite Grand Shoot).
6. Click CLOSE to Close Window.