TOURNAMENT FINANCE
NOTE: ONLY RUN AFTER THE OPTIONS HAVE BEEN PAID OUT FOR THAT EVENT, PLEASE
SEE THE NEXT CHAPTER BEFORE RUNNING THE TOURNAMENT FINANCE REPORTS.
1. REPORTS MENU .
2. Click 4-Finance .
3. Click Tournament Finance button (you will see this window below).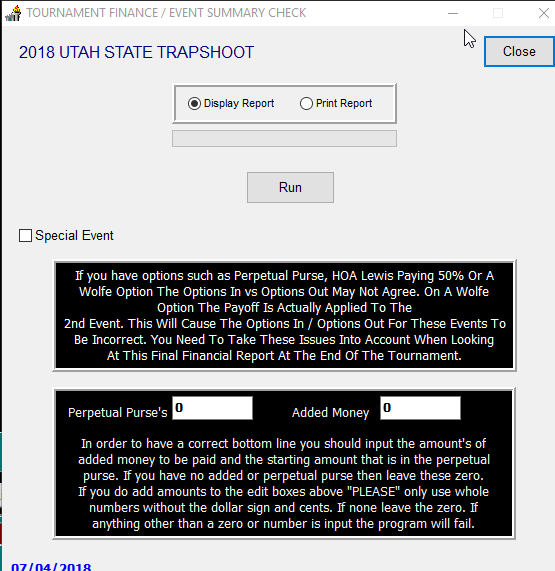 4. Click Run (you will see this window below).

5. Top of report is Final Financial for Event Entries, Target Fees, Options In; Options Out.
Shows Breakage (may not match Opts Out if a refund or Progressive Pot was won),
Added Money Paid and Total Paid for Event.
6. Notice Evt # 1, 2, and 3 show entries, tgt fees, options in / out, breakage, added paid &
total paid.
7. In the next image, you'll see 11 events, showing the amounts, as above. But this one
shows that we also have Added Paid amounts for event 9, 10, and 11.

8. Click SAVE Icon on upper menu and store in designated file for shoot (Label: Evt 3
Finance) and so on.
9. Middle of report shows (1) Target Fees , (2) Daily Fees , (3) Options In, (4) Total Fees ,
etc.; plus (5) Total Money In .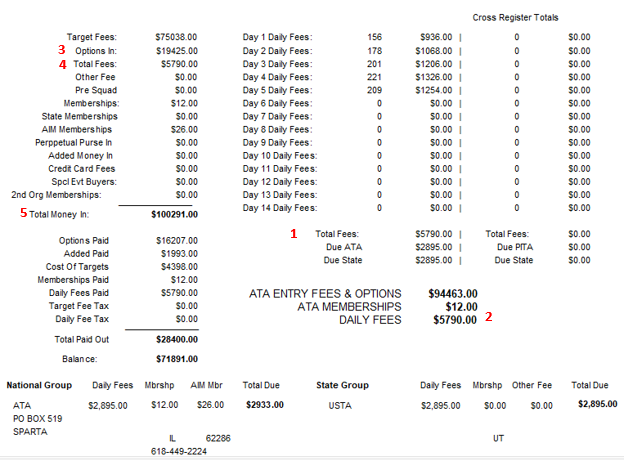 10. Bottom of report shows total monies in, (1) Total Monies Paid Out and (2) Net
Balance.
11. ATA information is listed with (3) Fees Due along with State Fees information and
(4) Fees Due .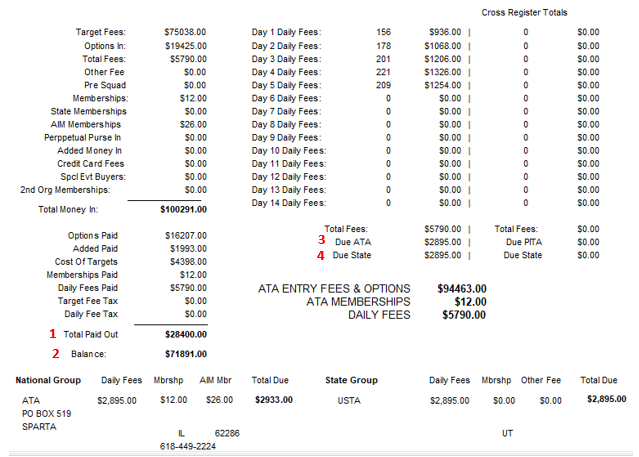 12. Run this report after each event, save in designated shoot folder on thumb drive and
also place hard copy in shoot notebook.
13. Click CLOSE to close window.