SQUAD SHOOTER
1. SQUAD MENU .
2. Click Squadding (you will see this window below).
3. Check all events by selecting the radio button. Check 1-3; 4-6; or 7-9 (lower right
page), etc.; this will allow shooter to squad which event shooter chooses to shoot.
These events will also be different days of your shoot, check above each event listed,
to verify the date and day for that event.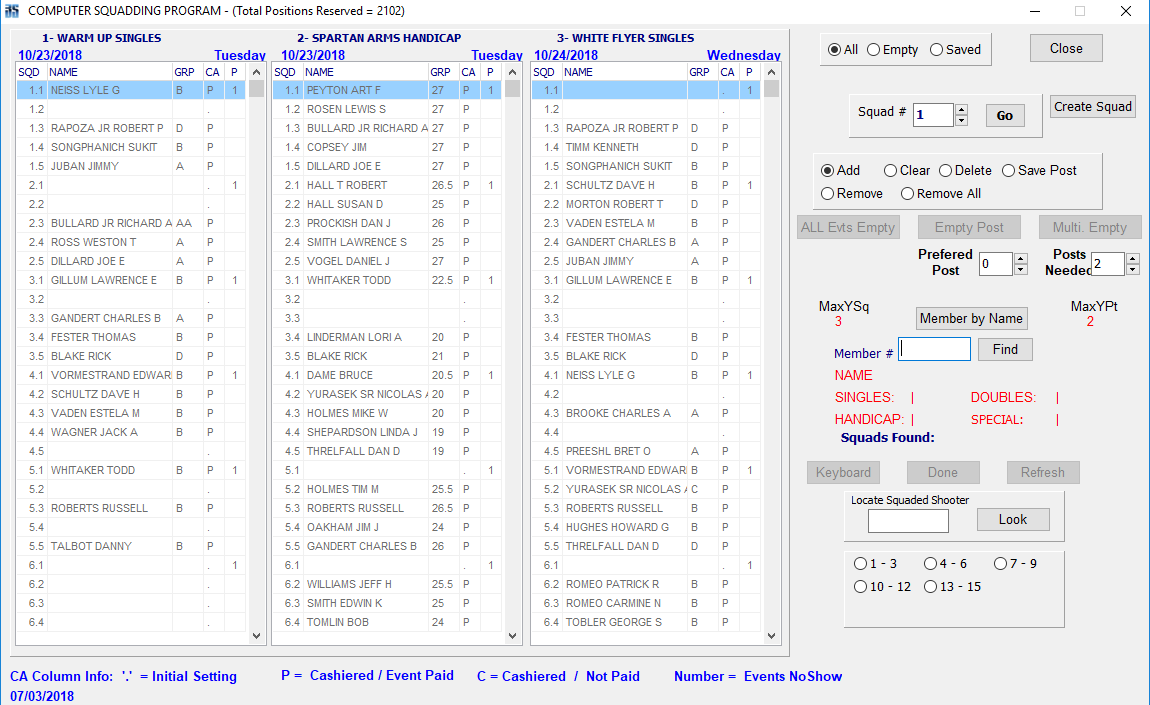 4. Enter Member (shooter) Number in middle of window on right.
5. You may also find shooter by Clicking Member (copy member #).
6. Click Find . This will open squad window to insert Shooter into Events.
7. Double Click to enter Shooter in Squad and Position of Event.
8. The active Event will show in bright blue . If this is not the event you want to squad for,
tab over to the correct event, else check proper radio button (bottom right corner) for
events you want to start squadding for.
9. If Clicked on wrong Squad or Position: Left Click Delete in Blue Box upper right;
arrow over shooter's position; double click ( shooter is deleted).
10. Click Add in Blue Box ; Click on correct Squad and Position of Shooter.
11. Repeat for all Events Shooter wishes to enter.
12. Do Not Use Remove or Remove All Events in Blue Boxunless told by 1 2
Management.
13. Click CLOSE to Close Window.
KEYBOARD SHORTCUTS – SPEED UP SQUADDING
There are also keyboard shortcuts you can use instead of selecting an option and then double
clicking the squad/post you would like to use. We suggest using these keyboard shortcuts instead
as they speed up the squadding process very much.
NOTE: You can see the keyboard shortcuts in squadding by clicking the Keyboard button at
the lower mid-right hand side.
1 REMOVES SHOOTER FROM ALL FUTURE EVENTS
2 REMOVES SHOOTER FROM ALL EVENTS INCLUDING PREVIOUS EVENTS.