FINAL FINANCE REPORT
1 . REPORTS MENU .
2 . Click Tournament Finance (you will see this window below).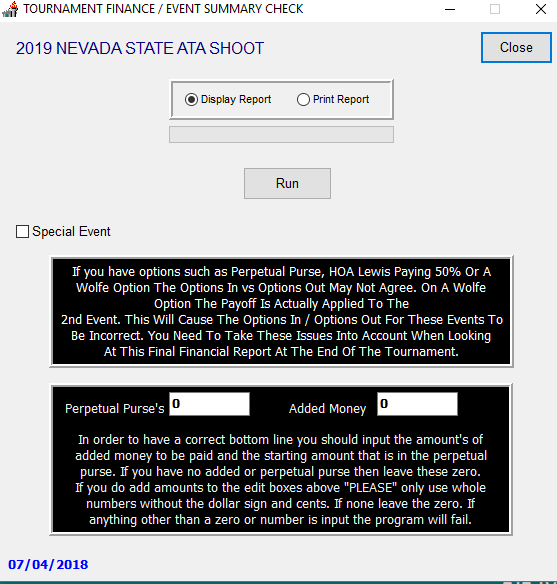 3. Click Run (you will see this window below).https://shootpro.s3.us-east-2.amazonaws.com/ImagesTutorial/273.png
4. Top of report is Final Financial for Event Entries, Target Fees, Options In; Options Out.
Shows Breakage (may not match Opts Out if a refund or Progressive Pot was won),
Added Money Paid and Total Paid for Event.
5. ALL EVENTS will show entries, tgt fees, options in / out, breakage, added paid &
total paid.
6. Find correct drive, open designated shoot folder; Click Save Icon (Label report: FINAL
FINANCE).
7. Middle of report shows Target Fees, Daily Fees, Options in, Total Fees, etc.; plus Total
Money in.https://shootpro.s3.us-east-2.amazonaws.com/ImagesTutorial/274.png
8. Bottom of report shows total monies in; Total Monies Paid Out and Net Balance.
ATA/PITA information is listed with Fees Due along with State Fees information and
Fees Due.https://shootpro.s3.us-east-2.amazonaws.com/ImagesTutorial/275.png
9. Run this report after FINAL EVENT, open designated shoot folder; Click the Save Icon
also print a hard copy for shoot notebook.
10. Daily fees to be sent to ATA and State Association along with Membership fees
collected. Program will not print these checks automatically, you will need to print or
write checks for your club. Print correct amount of finance copies for ATA, State, Club,
and Cross-Register if needed.
11. Click CLOSE to close window