DELETE EVENT PAYOFF
If you need to rerun an option, you need to delete it first.
1. Click 8-Delete Event Payoff .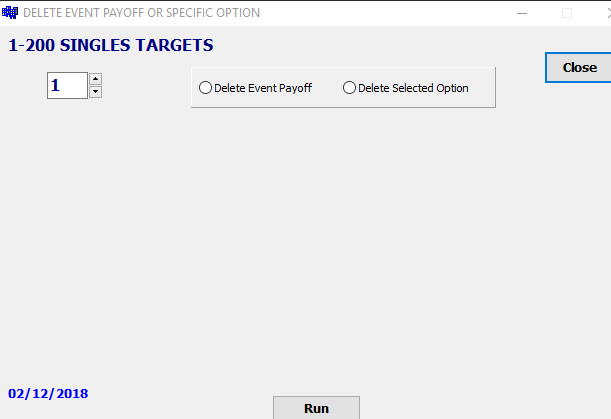 2. If you click the Delete Event Payoff, it will delete the entire event payoff file.
3. If it is a 200 Target event, you can deleted the entire event, or the 1st or 2nd 100 payoff
file. By doing this, all the options which have been run, will be cleared.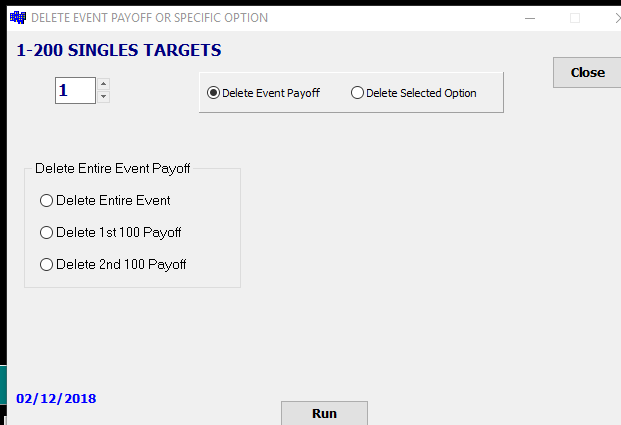 OR
4. If you click Delete Selected Option, it allows you to delete selected options. Select
which options you want to delete (or clear). Prior to clicking Run , be sure you have
selected the options you want to clear, else you will need to rerun the option again.
5. Then click OK .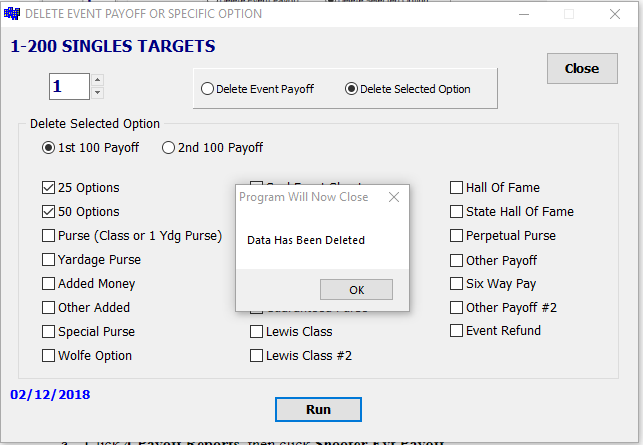 VERIFY DELETED EVENT PAYOFFS
6. These deletions can be verified in 2 ways.
a. Click 4-Payoff Reports, then click Shooter Evt Payoff, then select 1st or 2nd
100 (if 200 target event), then select Run .
After Options ran:
1st 100
2nd 100
After Delete ran:
b. Make sure the options you want deleted are $0.00. Go to the bottom of the report.
In this example, we deleted 25 Opts and 50 Opts and they appear to be $0.00, so
delete went OK. We should still have Lewis 2 (because it is a 200 target event)
and Spc Pur with money totaled.
7. Selecting 4-Finance (on Reports Menu), then select Tournament
Finance . TOURNAMENT FINANCE.