14-OTHER 50 OPTION
1. Click 14- Other 50 Option button on PAYOFF MENU , which is displayed on the
following screen.
2. For the Mid-50 option, we only want to look at the 2nd and 3rd 25 subevents. We don't
want to use the Perpetual Purse Option, because it will distribute money to all sub events
for the highest scores. We are only looking for 50, if none, then 49. If there are no 50 or
49 scores, no one gets paid on this option, and the money just rolls over into the Perpetual
fund.
3. Click the Run button.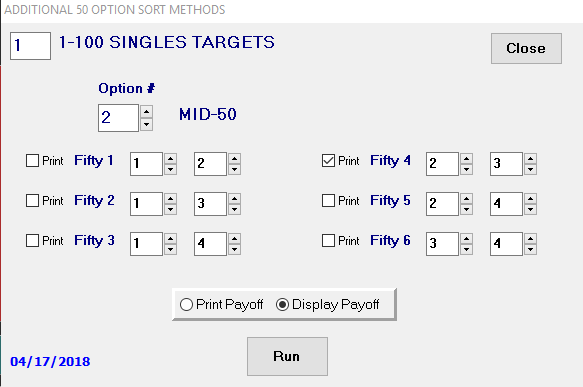 4. The Mid-50 is usually a perpetual purse, so you may need to find out how much is in the
pot already.
5. We had 15 shooters in this option, each paid $1.00 for entry. If the previous balance was
$258 plus $15 equals $273, divided by 2, equals $136.50, which e will round down to the
nearest dollar.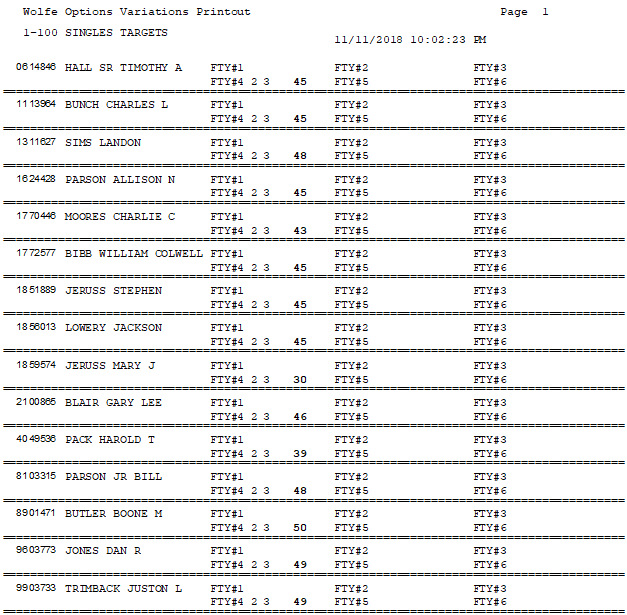 6. Click Printer Icon.
7. We are looking for the shooter who hit either 50 or 49 out of 50 targets.
8. We have one shooter who hit 50, so he wins 50% of the perpetual pot balance.
9. This shooter won $136 for playing the MID-50 option.