1-25S, 50S, PURSE, ADDED
25, 50, Purse and Added (these are some of the most common options played in a shoot
program; if these options are run all purses can be figured simultaneously). In order to run
these options, you must have the current Event number selected.

SETUP
1 . Click 1-25, 50, Purse, Added button on PAYOFF MENU (you will see the window below. This
menu selection has multiple option uses. You can select 25's, 50's, 100's (Purse) and/or Added
Money. This Option can be used for a 100 Target report or a 200 Target event.
a) Click Run in lower box when all entries are correct.
b) Click Abort in top middle, if any entry is incorrect.
c) This payout option screen can run up to four (4) of the basic options used in a shoot
program.
d) If it is a 100 target event, click Setup button,
e) Else if it is a 200 target event, click 1st or 2nd 100 Tgts prior to clicking Setup.

100 Target Event (left)                    200 Target Event (right)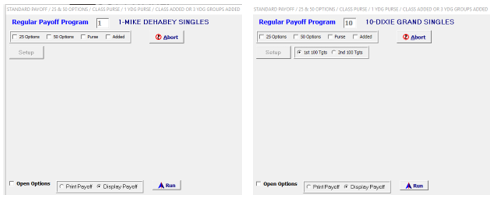 BY CLASS or OPEN
2 . Each option has a different section of the screen. If all options are available for the event,
enter requested number of places to pay (use arrows).
3 . This screen defaults to show all these possible options by class. First you will need to
check your shoot program and see if the Options are Open or by Class . If the shoot
program shows they are Open Options instead, click the Open Options box in the
bottom left corner.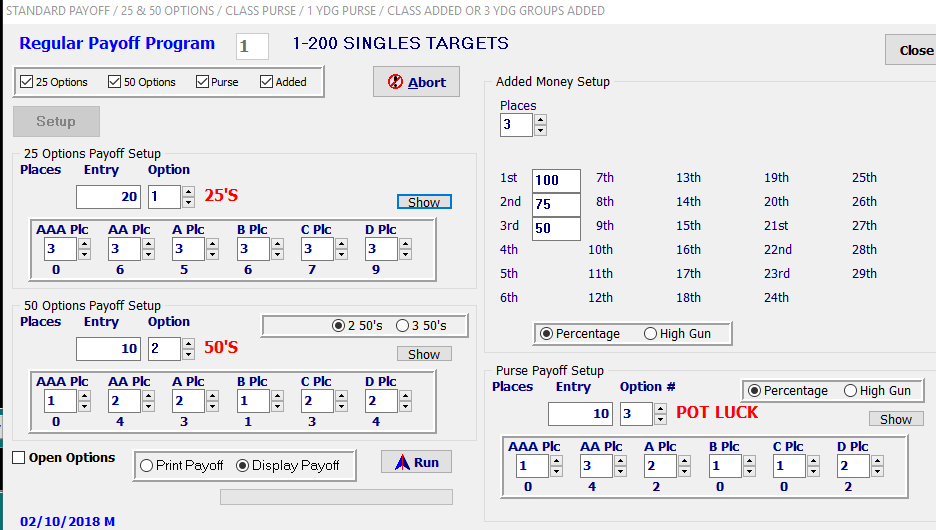 Singles or Doubles – by class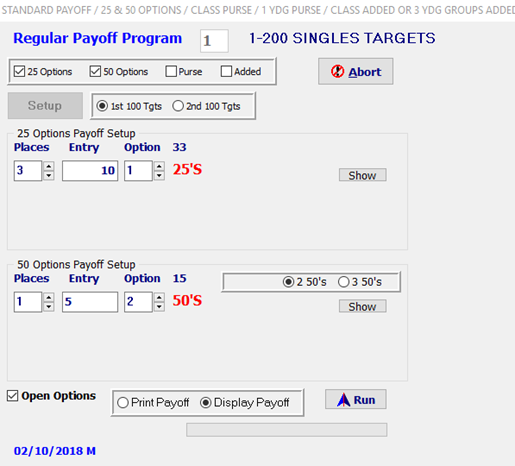 Singles or Doubles – Open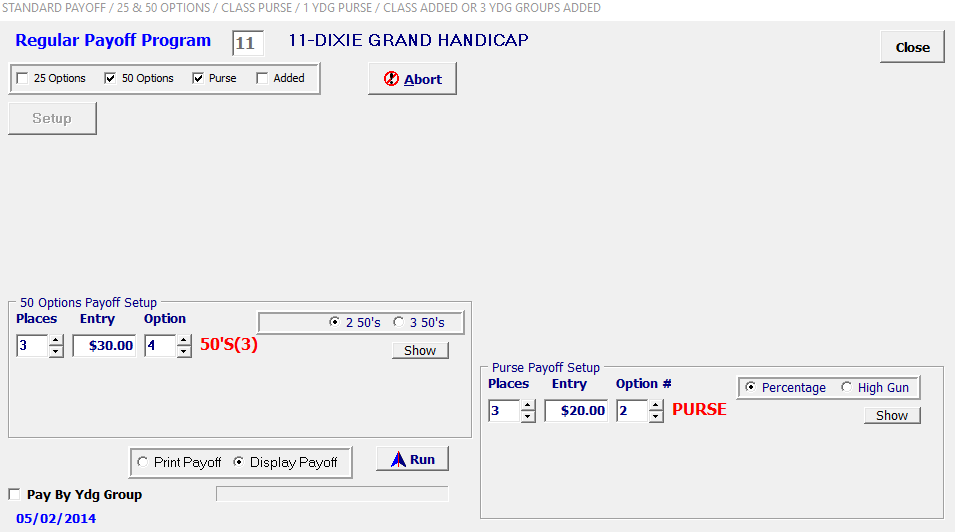 Handicap
4 . Select which Option number(s) you need to run for each section of this screen.
5 . You do not have to run all Options on this screen at the same time.
● If the 25's are Open and then the 50's are by Class, you will need to run the 25's
separately from the 50's option.
● The following sample from a shoot program, shows that the 50's need to be run a
OPEN and the 100's (or Purse) need to be run by class. Therefore, these 2
options will need to be run in separate executions of this option.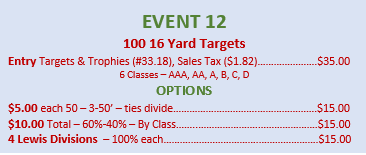 6 . You can run the 50's as 2 (first and last) or 3 (first, middle, last). The above shoot
program, shows that the 50's need to be run for 3 (first, middle, last).
PURSE PAYOFF SETUP
7 . The Purse Payoff Setup (lower right corner) sets up the Singles Event Class Purse or the
Handicap Event Yardage Purse.
8 . Scroll to the number of places paid as shown in AA, A, B, C, D Plc.
9 . Click Show to see how many shooters in each class for that Option. If it is less than the
number of positions being paid, decrease it until it matches.
10 .If there are no shooter in that class, set it to one (1).
11 .If you are needing to run the Yardage Option as groups, you will want to use option
2-Yardage Purse.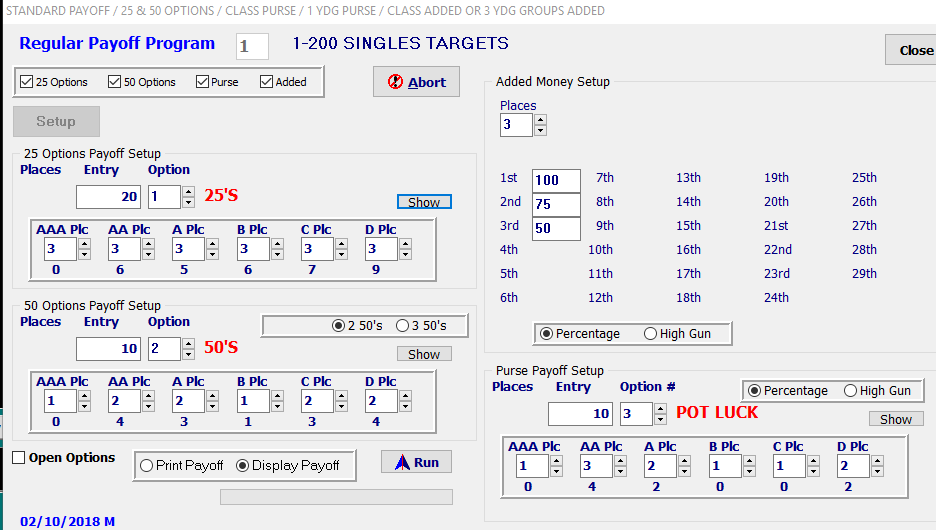 12 . Check in upper right corner of the Purse Payoff Setup section, select whether you pay
Percentage or High Gun .
ADDED MONEY SETUP
13 . The screen below shows the Added Money Setup option selected. You do not have to
select an option number for this one. Once you check the Added box, it shows the
following screen.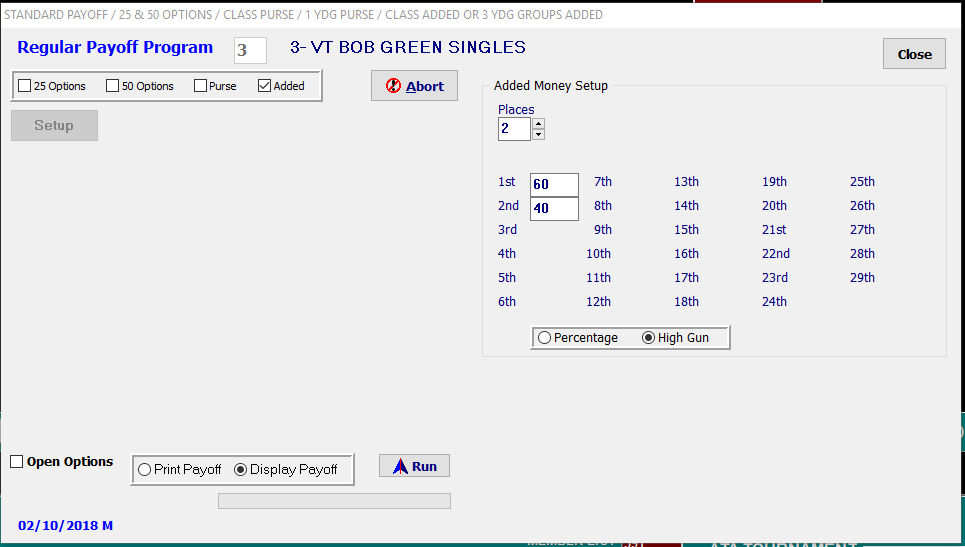 14 .The Added Money Setup upper right window; asks for Places Paid, scroll arrow to
number of places paid. Enter the amount of money paid each place, as shown in example
using 1 st
and 2 nd
places.
15 .High Gun is checked in bottom of window.
● When you select High Gun , if top 2 shooters in the class have the same score,
then the $60 (1st place) and $40 (2nd place) are added together and divided by 2.
Therefore, they would get $50 each.

16 .Percentage is checked in bottom of window.
● When you select Percentage , if top 2 shooters in the class have the same score,
then they split the $60 for 1st place.
● If next score in the class was shot by only 1 shooter, they would get $40 for 2nd
place.
17 .The screen looks a little different when the event is for Handicap, as shown below.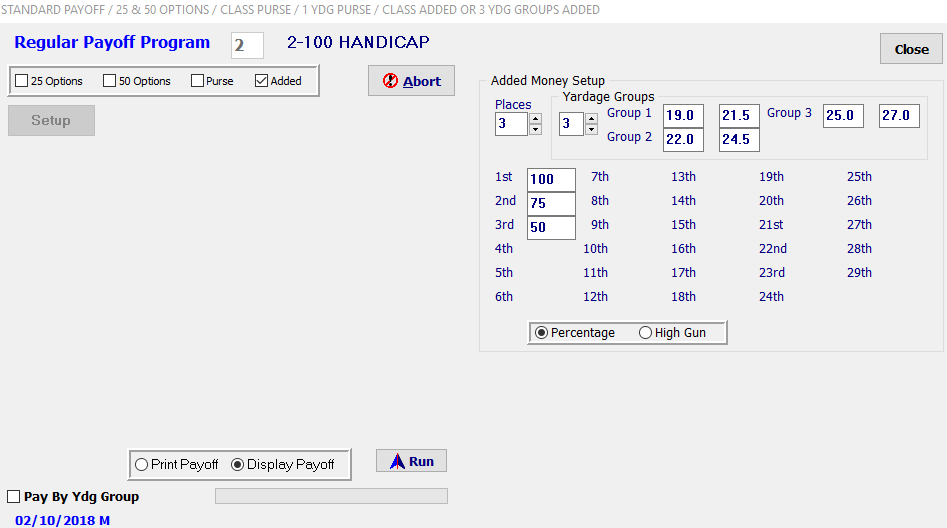 18 .Please note how the Added Money Setup has added Groups to be used for Yardage
Groups. The Yardage Groups should match Yardage Groups entered in the Tournament
Setup Window.
19 .Click Run to run Added Money Option, or Close to Close Window without running
option.
20 .Instead of using this Added Money portion of this screen, you can use 3-Added Money.ADDED
MONEY.